Not your average symposium...
Fluid, Flexible Thinking:
Perspectives from a Visual Storyteller
STORYTELLING AND STORY CRAFTING FROM A VARIETY OF POINTS OF VIEW
An introduction to fluid, flexible, thinking… What is the process of designing scenes and telling a story visually? How and what does place and scene communicate?
Professor Allar reflects upon the challenges and benefits of collaboration with other types of storytellers—choreographers, costume designers, musicians, songwriters, singers, orchestra—and how you can apply these experiences to coastal and marine issues.
A native of Pennsylvania, Matthew Allar is a scenographer based in Williamsburg, Virginia. An Associate Professor of Theatrical Design, Matthew is the resident Scenic Designer for William & Mary.
Recent work includes The Underpants and Peter and the Starcatcher for Perseverance Theatre and VSC's A Christmas Carol. Additional credits include production design for the New York premier of East 14th and Joseph Haydn's Le Pescatrici for the Zempleni Music Festival, Tokaji, Hungary.
Other scenic design work includes productions of Shakespeare's Romeo and Juliet (Michael Sexton, dir.), All My Sons (Victor Pappas, dir.), Arcadia, Hair (Elizabethtown College) A Lie of The Mind, Cabaret, Rent, Rocky Horror Picture Show, Marat / Sade, A Midsummer Night's Dream, Cabaret (Cornell College), Top Girls (Albright College), You're A Good Man, Charlie Brown, Danny and the Deep Blue Sea, Three Sisters, Songs For A New World (Eastern Univ.) and The Pillow of Kantan (Muhlenberg College) as well as the New York premieres of several works including Samuel IV, Playing House, and the Peccadillo Theatre Company's revival of All God's Chillun Got Wings. As a lighting designer, credits include the recent NYC productions of Baby With The Bathwater, Dancing at Lughnasa, You Never Can Tell and Studio 42's annual The Starving Artist's Ball. Additional credits include design work, both here and abroad, for several television networks including MTV, VH1, TV Land, Nick at Nite, Nickelodeon, and Noggin.
A former Associate Director of Design for the New York Television Festival, and co-founder of both M.A.D. Inc., and Cabana Creations LLC, Matthew's education includes Muhlenberg College, The University of London, and New York University. Member United Scenic Artists #829. www.matthewallar.com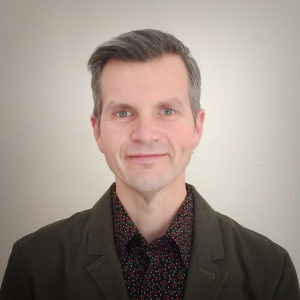 MATTHEW ALLAR
ASSOCIATE PROFESSOR OF THEATRICAL DESIGN
WILLIAM & MARY
GRADUATE SYMPOSIUM 2020 SPONSORS