Not Your average symposium...
Graduate Symposium Mini-Poster Presentations
Poster submissions are no longer being accepted.
Please contact the poster chair using the link below if you have any questions.
New Data? New Research? We Want to Know!
Virginia Sea Grant invites undergraduate and graduate students to submit a "late-breaking" mini-poster abstract for the 2020 Graduate Symposium. Space is limited. Abstract submissions will only be considered if they are submitted by January 31, 2020. Students are encouraged to submit an abstract that examines new analyses, findings, and/or designs that are relevant to Sea Grant and Coastal and Great Lake communities and ecosystems. 
The Mini-Poster Competition provides an excellent forum for students to present their work in an informal and interactive setting similar to "a scientist walks into a bar." Posters are ideal for presenting speculative or late-breaking results, or for giving an introduction to interesting, innovative work. Posters are intended to provide students and Graduate Symposium participants with the ability to connect with one another and discuss the work presented. 
Each poster will be judged based on technical rigor, poster format, and the student's ability to convey the poster content to the judges through an oral presentation. University/college and post-doctoral students are invited to submit abstracts on their proposed poster in accordance with the procedures described below. The student's abstract and poster should be relevant to Virginia Sea Grant; that is, they should follow the same theme of the general conference.
Instructions: Poster abstracts must be entered through this portal, the Tribe Responses, no later than January 31, 2020, 11:59 PM EST. 
Please limit your abstract to be no longer than 200 words (~1500 characters). Also, note ONE abstract submission per person. Submitted abstracts will be reviewed by the poster selection committee.
The authors will be notified of poster presentation acceptance. All poster participants will be required to pay one Student Registration Fee to attend the conference. Monetary Awards will be given for the top 2 posters. 
Questions about the student poster competition?
Contact the Grad Symposium Student Poster Chair – Sam Lake: sjlake@vaseagrant.org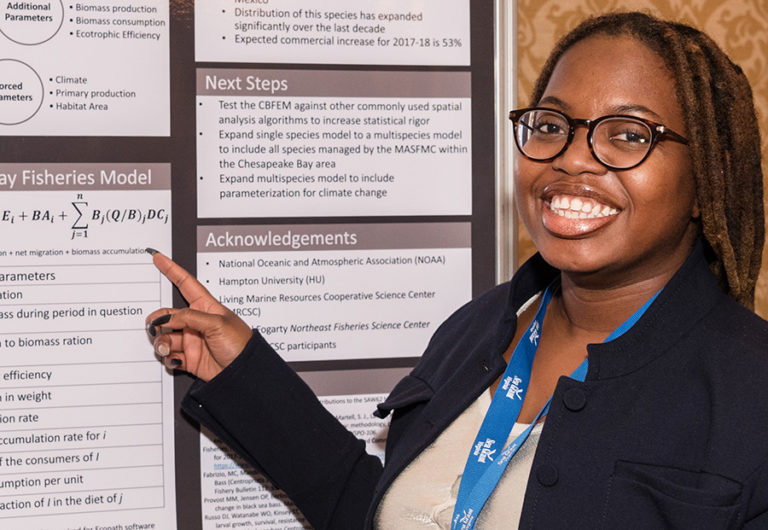 The format and amount of information shown in the posters should be tailored to its size, so please do not use a shrunken version of an old poster.
Poster Dimensions: M

ust be no larger than 30-inches X 36-inches, or 76.20-cm X 91.44-cm;

Graphics: No more than 5 graphics; 
Supportive Materials: You are also welcome to distribute a flyer or a copy of your mini-poster to handout. 
"What I really enjoyed about the symposium was going to see fellow graduate students presenting their work, because it's always really neat to be able to see what other people are doing."
GRADUATE SYMPOSIUM 2020 SPONSORS